Have you ever had the desire to paint but had no idea how to start?
This Beginners Course takes you right back to the basic fundamentals of painting. The lessons are all highly informative, clearly presented and structured for you to watch, learn and then do. No prior experience needed at all, using either Oil or Acrylic Paint, you will learn about Colour Theory, the magic of mixing all the colours using a limited palette. You will discover how to achieve volume and dimension in your painting, the wonderful technique of Glazing, Alla Prima Painting and then at the end of the course, I show you how you can make a painting using tools other than a brush. This course will give you the confidence you need to then go on further to develop your own paintings. You can stop, pause, rewind and repeat while you are working through your exercises in your own home.
SIGN UP &
CHOOSE A COURSE
WATCH. LEARN & PAINT WITH FIVE FUN FILLED LESSONS
PAINT WITH CONFIDENCE, PAINT LIKE A PRO!
WHAT'S INVOLVED WITH THE
BEGINNERS COURSE?
BENEFITS & EXPECTATIONS
OF OUR ART COURSES
Having lifetime access to our course & video content means you get to learn at your own pace.
After you complete this course you will be able to paint with confidence and creativity as well a great understanding of colours and techniques.
For those who are complete beginners - a new love of painting and confidence with materials
Being able to further your potential art career or simply advance in your new found hobby
Having frame-worthy pieces of your own work, and a sense of satisfaction in creating incredible original art.
ADDITIONAL COURSE INFORMATION
How are the courses run?
---
All of the painting courses are in a video format and can be accessed and used for learning in you're own time, there are no specific times that you need to be "in class".
---
What paints & brushes do I need?
---
OIL OR ACRYLIC PAINTS:
The 3 warm Primary Colours:
Cadmium Red (brilliant red in the mont marte brand)
Cadmium Yellow (medium yellow in the mont marte)
Ultramarine Blue
The 3 cool Primary Colours:
Alizaron Crimson Red (crimson red in the mont marte brand)
Lemon Yellow
Prussian Blue
Titanium White (opaque white)
Zinc White (transparent white)
Ivory Black
A few others to have that might help you..
Yellow Ochre
Raw Umber
Paynes Grey
SOME BLACK ACRYLIC PAINT FOR DOING BACKGROUNDS.
MEDIUMS:

"AS " Art Spectrum are a great brand but whatever you can find.
An Odourless Solvent for washing brushes and doing thin washes.
Medium No.2 or Medium NO. 4 LIQUOL for glazing, blending, mixing etc…

BRUSHES

: A good range of brushes and sizes

SOME LARGE GESSO BRUSHES

and a variety of palette knives for mixing and doing palette knife painting.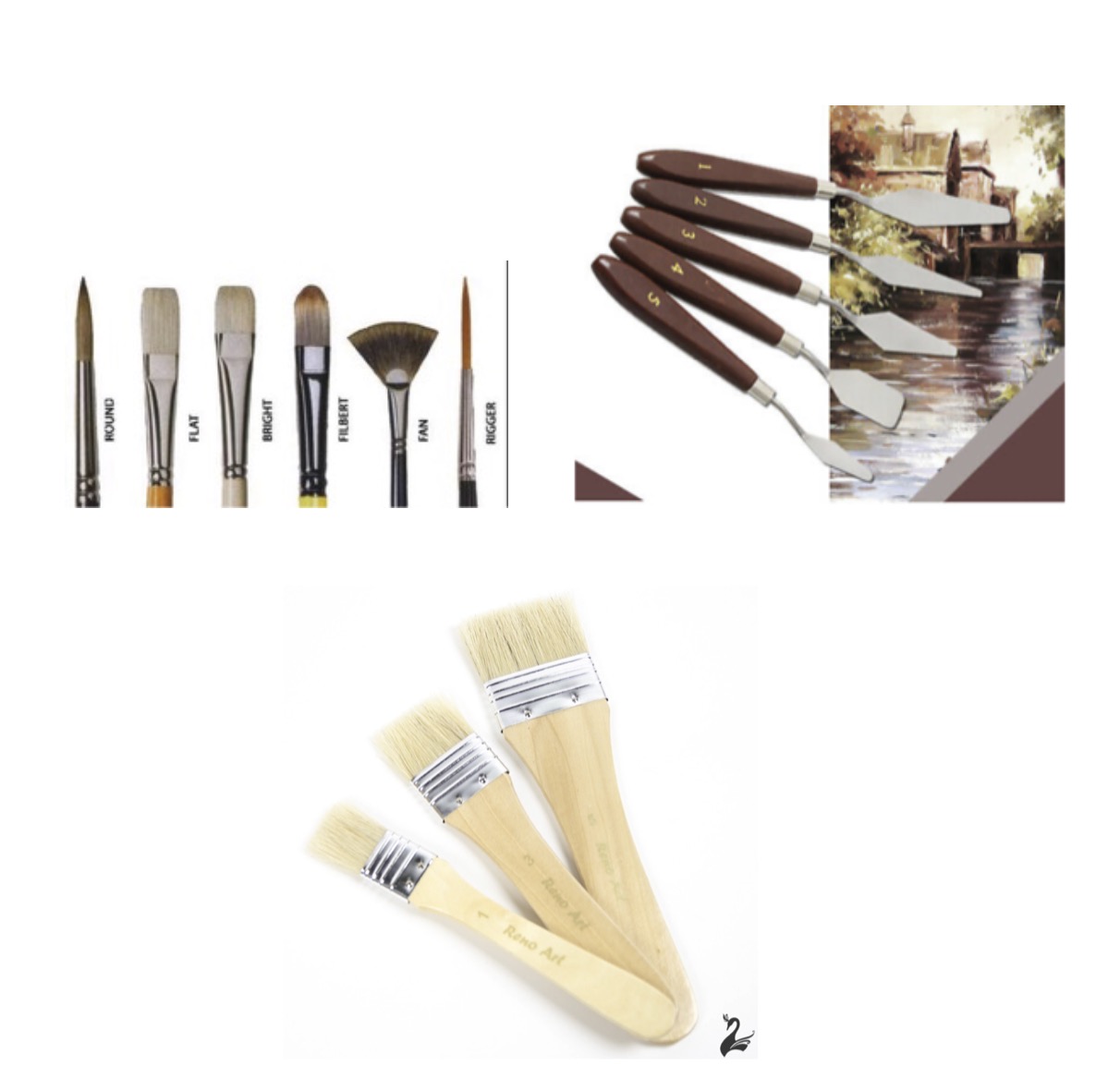 ---
How can I sign up?
---
It's super simple to sign up and get painting. All you need to do is go to our pricing page here and select the course you would be prefer. You will then be asked to either sign up or login, once this is completed you can proceed to the checkout and pay. Once the transaction is complete, you will instantly gain access to your purchased course directly on our website under the "Courses & Pricing" menu.
---
What canvas & palettes do I need?
---
You will need a Pad of Canvas Sheet. A3 if you can get it but if not A4. Any brand but the ones below are affordable and you can buy online.
You will need a palette of some sort. this could be plastic plates, a pad of disposable tear off palettes or timber palettes. I have found all of these items available online from eBay, Office Works or Amazon just to name a few. All items around $10 or less.

To do larger paintings I suggest you work on Stretched Canvases or Canvas Board. Once again, you can get a very affordable range of canvases online. The Mont Marte range of materials are very well priced. You will need some jars with lids, some rags, some charcoal and latex gloves if you are using oil paint and want to protect your hands.
---
---